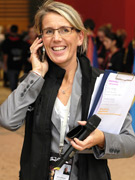 The first structure was founded in 2006 and was called Cabinet Alison Drummond. 2 years later, as a result of an increasing number of requests, the legal structure of the company changed and it became Agence Privilège Traduction, SARL (an LLC).
Agence Privilège Traduction's organisation and management will ensure the multilingual translation of all your documents, communication media and presentations while guaranteeing the optimal linguistic quality of its services.
Due to the human-scale of our company and our network of translators, we provide each of our clients with a personalized and rapid follow-up.
The agency is well established in the service, industry and sports sectors and benefits from a perfect understanding of these markets and their requirements in terms of technical translations, thanks to the creation of a specific glossary for each client.
As everyone knows, "Time is money", which is why we are committed to replying to your requests as soon as possible, with a result which is always perfect.