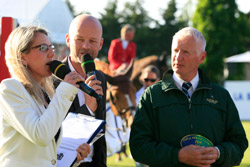 Since 1998, the year when I began as a commentator at the Show Jumping and Dressage World Cup stage of Paris Bercy, I have focused on developing my role as a commentator, with my feminine, British touch at the major international equestrian events where I am present (CSIO of La Baule, Equita Lyon, the Saut Hermès in Paris, the Global Champions Tour of Monaco, the CSIOP of Fontainebleau, etc.)
I actively participate in major sports or corporate events (seminars, congresses, product launches, etc.) in France and abroad, in French, English and Italian.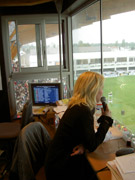 Women are few and far between in this profession and I endeavour to bring my sensibility to each event and create an atmosphere, a feeling of proximity and convey an emotion to the public.
The effectiveness of each of my presentations necessitates using the appropriate words and expressing them with the right tone of voice, thus ensuring a dynamic and high-quality rendition.
"My aim is to allow the public to experience an enjoyable moment, and to ensure that they will remember the time spent at an event in a very positive way."